The Mayor of Bratislava, the Capital City of the Slovak Republic, represents the city and the entities of the city in the Partnership Council.
Ing. arch. Matúš Vallo
Matúš Vallo has been the Mayor of Bratislava since December 2018, when he won the municipal elections with 36,5% of the vote. Before he was elected mayor, he was a co-founder of the Vallo Sadovsky Architects studio.
Matúš was born in Bratislava and then went to high school in Rome. He then graduated from the Faculty of Architecture of the Slovak Technical University in Bratislava. During his career as an architect, Matúš has worked in London and other cities. He received a Fulbright scholarship from Columbia University in New York.
As mayor, one of the main goals for Matúš and his team has been to create a strong and resilient city with a high level of transparency as a key to fighting corruption.
Building on his professional experience, Matúš has placed an emphasis on well-designed public spaces. Other key topics are mitigation and adaptation to climate change, accessible public transport, social welfare and support for vulnerable groups.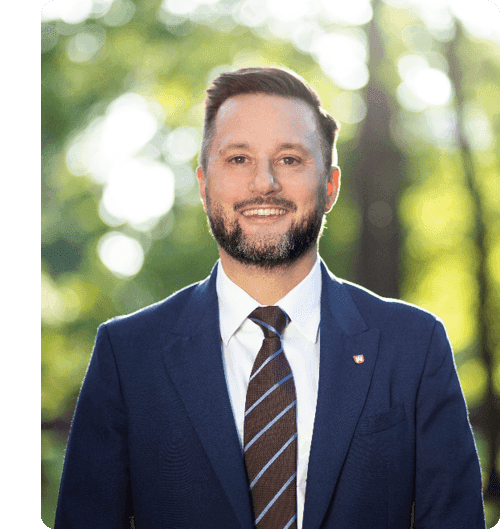 In 2022, Matúš founded Team Bratislava as a political party. He has been its leader since June. Team Bratislava aims to create a platform for people to actively engage in public affairs, particularly on a local level.
With Vallo Sadovsky Architects, Matúš has received numerous architectural awards, such as the CE.ZA.AR Award and the Dušan Jurkovič Award for the Nádvorie project in Trnava. In 2021 he received the World Mayor Future Award from the City Mayors Foundation for his efforts to turn Bratislava into a greener city with good public spaces.
Matúš is also a co-founder of the Free Cities Pact, which he co-founded with the mayors of Warsaw, Prague and Budapest in 2019. In the same year, he received a scholarship from Bloomberg Philanthropies and Harvard University exclusively offered only to forty mayors across the world through the Bloomberg Harvard City Leadership Initiative.
Matúš lives with his wife Linda and their son Jonatán. Since 1995, he has been a member of the band Para.